(Last Updated On: April 21, 2021)
Here we give you an in-depth Tag Heuer Aquaracer Caliber 5 review. This watch comes with impressive features and has many variants that will suit your budget. But when it comes to the Aquaracer Caliber 5 models, we recommend the 500M ceramic range.
The reason we picked this model is that it promises water resistance to a greater depth than the Aquaracer 300m range. It also features a rubber strap that stays secure and comfortable on the wrist. The best part is that the strap provides extra length to use comfortably over the diving suit sleeve.
If you want a timepiece for a diving trip or night out, you should consider getting the Tag Heuer Aquaracer collection. This brand promises timepiece models that can handle anything tough condition and rigorous uses.
The Tag Heuer Aquaracer Calibre 5 comes as one of such timepieces that look elegant on the wrist. Although it comes in several variations, this accessory consists of features that will interest any watch snob or diving enthusiast. Besides, this watch model has various color combos to select from and different material build like the titanium coated types. 
Are you interested in sporting this timepiece on your wrist or you want to know the impressive features of this watch? In this Tag Heuer Aquaracer caliber 5 review, we will reveal to you exciting things about this watch. Now let's start with the popular Tag Heuer Aquaracer Calibre 5 300m.
The Tag Heuer 300m Aquaracer Calibre 5: A Summary
It combines an impressive design with top-end features that can rival any expensive diving gear watch collection. The Tag Heuer 300m Aquaracer Calibre 5 has a sturdy steel case that houses an elegant dial. With this watch, you can check the date of the week that is positioned at the three o'clock while a steel bracelet secures the watch to your wrist.
The sturdy timepiece has a well-polished bracelet that uses push-pins. It also has an elegant finish that matches your style. Users will surely feel comfortable wearing this watch due to its less bulky features. In other words, it will not add extra pressure to your wrist.
The Aquaracer 300M Calibre 5 features a uni-directional bezel that secures the crystal. Apart from having an exciting look, it rotates smoothly and ensures a perfect grip. As for the crystal, this is a coated sapphire glass, which can endure regular use.
The Tag Heuer 300m Aquaracer Caliber 5 With Ceramic Bezel: General Design
The Aquaracer 300m comes in various designs, but let's talk about the model with a ceramic bezel. Even if they look alike, this variant will suit people who love sporty watches.
Apart from its unique bezel, it sports bold hands and hour indexes that allow easy reading in all conditions. These features also offer a shiny look which makes the dial elegant. Furthermore, the dial uses the regular streak design featured on other Aquaracer watches.
Do you want to check the date? Use the magnifier that lies above the date window of the watch. For dark rooms or dives, the luminous hands and markers allow you to use the Aquaracer with ease. 
Unlike other models, the watch face sports solid minute and hour hands. At the tip of these hands lies the TAG Heuer logo.
If you prefer a less flashy look, the Phantom model swaps bright lume for a grey colored one. However, it does not offer the same level of legibility as this watch. Surprisingly, TAG Heuer included these features to meet specific tastes.
The Tag Heuer 300m Aquaracer Caliber 5: The Dial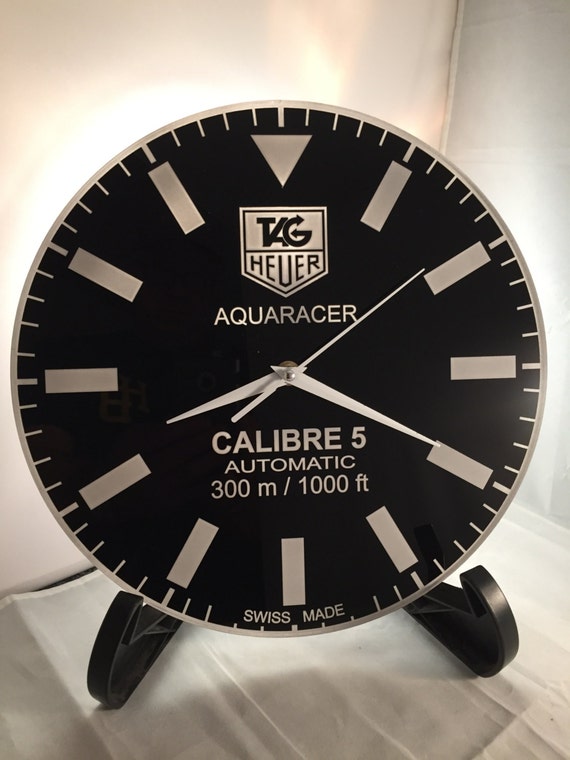 Sometimes it's difficult to read a watch, especially when underwater. But if the timepiece has a legible dial, it will meet the needs of any diver. If you need such an accessory, try getting the Tag Heuer Aquaracer Calibre 5 41mm that uses a ceramic bezel.
Looking at this model, it has a large dial with thick hands and hour markers. Also, it does not consist of confusing details that might reduce its legibility. It features a bright lume that covers the hands and markers to ensure clarity in dark environments.
The dial also houses a date window at the 3 o'clock marker. Since it has a cyclops lens, the numbers look bolder than usual. It even offers a white minute track that consists of sharp indexes of the same color.
Apart from ease of use, this elegant timepiece fits any outfit in your closet. First, the Tag Heuer Aquaracer Calibre 5 dial has well-placed lines on all sides. Next, a white-tipped second hand (with a yellow tint) sweeps this surface. Overall, TAG Heuer combines colors perfectly on this face of this model.
The

Tag Heuer 300m Aquaracer Calibre 5: Case
When it comes to the case, Aquaracer Calibre 5 has two sizes – 41mm and 43mm. If you prefer the more massive case with a steel bezel, you will spend less cash as it costs less than the ceramic option.
Fortunately, both models look great with a diving suit or regular clothes. So after checking out both models, feel free to choose the variant that meets your budget.
The Tag Heuer Aquaracer Caliber 5 43mm case has a brushed look and uses Arabic numerals for markers. Since it comes in this dimension, it doesn't look out of place when worn on large-sized wrists. Furthermore, the size makes the watch easier to read.
Like most TAG Heuer products, this timepiece has a sturdy but comfortable steel bracelet. During a dive, it uses a folding clasp that secures the watch comfortably to your wrist.
If you look behind the watch, an engraved case-back protects its internal parts. Due to this toughness, it prevents moisture out from penetrating into its working components.
The Tag Heuer 300m Aquaracer Caliber 5: Movement 
From its name, you can conclude that it uses the automatic Calibre 5 movement. Unlike the Tag Heuer F1 Calibre 16 which runs on automatic chronograph movement, Calibre 5 uses ETA 2824-2 automatic movement. On this accessory, the feature supports 38 hours' worth of power and a frequency of 4Hz.
Since the watch does not have a skeleton case back, you can't check the finish of the movement. However, the company reveals that a Côtes de Genève emblem graces the oscillating mass. 
On the outside, a vintage dive en lies on the case-back. As it's well designed, it adds an extra touch of class to the piece.
Price
If you head to any store that places Tag Heuer Aquaracer Calibre 5 for sale, you will come across great prices that could meet your budget. For example, the Aquaracer 300M Calibre 5 costs less than $3000 while the 500M variant is much higher.
Both watches have a rugged build that can withstand years of regular use. They also have stylish dials that make them pop. As a result, the price suits the specs that both items offer
Why should you love these prices? Well, many brands offer low-quality watches at outrageous prices. But with the Tag Heuer Aquaracer collection, it ensures that its features match the price tag. 
Many watch snobs tend to view these timepieces with suspicion. Some even state that the brand offers low-quality features. However, a glance through everything stated out in this Tag Heuer Aquaracer Caliber 5 review will change these ideas.
Tag Aquaracer Calibre 5 300m Ceramic Model
Aquaracer WAY211A 
Under the crystal, the Aquaracer WAY211A has a black dial that is eye-catching. On top, a ceramic bezel (of the same color) secures the glass to the case. The best part is that it comes with a steel bracelet or black nylon strap.
Apart from yellow stitching, the nylon strap has a bright rubber lining. When worn, the padding feels comfortable on the skin. If you want an accessory that promises style and comfort, choose the nylon strap type.
Aquaracer WAY211B
Thinking of getting a Tag Heuer Aquaracer Calibre 5 blue watch? If yes, this item will meet your taste as it has bluish tones on its body. You can find such hues on the second's hand, and the bezel itself. Besides, a black strap with blue stitching holds the accessory to the wrist while the watch face shows a blue colored script. 
Aquaracer WAY211C
If you prefer a timepiece that has dial and bezel of the same color, the Aquaracer WAY211C should top your shopping list. This watch features a blue dial and bezel while the second's hand sweeps the surface with an orange tip. Instead of sporting bright colors, the bracelet consists of polished steel.
Aquaracer WAY218A Black
On this item, Tag Heuer places a titanium case. For a less conspicuous look, the watchmaker coats the case with titanium carbide, which gives us the Phantom. Sadly, both models of this Aquaracer do not use a black or titanium bracelet but have nylon straps that work fine.
Aquaracer 300M Calibre 5 vs Aquaracer 500M Calibre 5  – Which Model Should I Invest In?
If you check any Tag Heuer Aquaracer Caliber 5 review, two models might pop up – the Tag Heuer Aquaracer 300M and the Tag Heuer Aquaracer 500M. You will also discover that both watches have impressive specs that will excite any user.
First, they have sturdy steel cases that can withstand knocks and falls. Also, a red-tipped second-hand move on their dials while luminous markers lie at the edge. They even use automatic movements for various functions.
But I would recommend the 500m ceramic range has it promises water resistance at a greater depth than the 300m model. It even has a rubber strap that will not slide over your arm like its metal sibling. The best part is that the strap provides extra length to use comfortably over the diving suit sleeve.
Apart from having different levels of toughness, they also have varying case sizes – the Aquaracer 500M watch stands at 43mm while the case on the other watch measures 40mm. 
In terms of price, both items cost more than a thousand dollars. But if you want to splurge excess cash on a timepiece, stick with the Aquaracer 500M Caliber 5. Also, for pro-divers that love to have the Tag Heuer F1 Calibre 5, this another great timepiece that you should consider.
Should I Consider Buying a Tag Heuer Aquaracer Watch?
From our Tag Heuer Aquaracer Calibre 5 review, you will discover that it has an exclusive build that can suit any outfit or occasion. Apart from its stylish build, its suitable size and dial allow ease of use, especially underwater.
Excluding its design, the watch features water resistance that reaches 300M. Although some models promise longer distances, they tend to have a bulky look. Since the Aquaracer 300M does not add extra features such as a helium valve, it will not dwarf the size of your arm.
The bold markers on the timepiece promise legibility at most depths while the materials can endure moisture and corrosion. Overall, the watch stands as a worthy investment for watch and diving enthusiasts.
So after checking out the Tag Heuer Aquaracer Caliber 5 review, feel free to choose the model that meets your budget.