(Last Updated On: April 22, 2021)
Here we give you an in-depth Oris Aquis 39.5 review, discussing its features, build, movement and many more. This timepiece comes with impressive features, and it is one of the best watches for pro-divers since it is water-resistant to a great depth. Also, you can read this watch in any lighting condition, which means you don't have to worry if you are in a dark environment.
For many years, Oris has created well-designed watches with great features. However, its Aquis Date watch comes as one of the most popular dive timepieces from the brand. Launched in 2011, the Oris Aquis Date boasts of a 43.5mm case that supports an impressive dial.
However, an update swapped the case for a 39.5mm variant and replaced the dial, bracelet, and the handset. Overall, the watchmaker took out the bulky specs and made the new model lool slimmer.
Like its predecessor, the new Aquis date will catch the attention of watch snobs and regular buyers. It looks practical than the older model and uses an exceptional design. From the dial to the bracelet/clasp, this accessory comes as a great addition to the Oris family.
Do you want to know more about this impressive accessory? Does an Oris Aquis 39.5 used or new deserves a place on your budget? If you want answers to these questions, read this Oris Aquis 39.5 Review and discover all the secrets of this dive watch.
Oris Aquis 39.5mm Watch Review: At A Glance
As expected, the latest Aquis Dive watch offers an exciting selection of specs. For one, it has a hardened steel case that can handle depths of 300m. Surely, pro-divers will love the watches as it features a unidirectional bezel that offers accurate dive times. It even has a polished ceramic insert that will look brand new even after using for countless dives.
Apart from its sturdy build, the Aquis Date sports an easy to use dial with high contrast. Since it contains luminous markers and hands, it's readable at great depths and other dark environments. With that said, there's no need for you to squint at the watch, especially when underwater.
If you want to secure the watch to your arm, the Aquis Date models offer a dark brown strap. But if you want a steel bracelet or different strap, select from any of the other variants.
Like the original Aquis Date, the new model has a design that stands out from any watch selection. Even if it's a dive watch, it has a profile that makes it fit any casual or formal attire. So for any occasion, this accessory comes as a perfect fit for your arm.
Now let's begin this Oris Aquis 39.5 review by looking at each build.
Oris Aquis Date 39.5mm: Case
Many watch snobs describe 40mm cases as the best size for many wrists. Fortunately, the new Aquis Date has a case (sized 39.5mm) that measures close to that size.
Even if it has smaller dimensions, the new Oris watch shares some general features with the original Aqua Date models. For example, it has a practical profile that allows the diver to use the timepiece with gloved hands. You can even use it as a regular watch as it fits any attire in your closet.
This part of the review does not have any information about the Oris Aquis 39.5 lug to lug height. However, you should know that the lugs on this watch model attach either to a strap or metal bracelet to the case back. If you want a standout option, choose the variant with a leather strap colored in brown.
One of the standout features of the Oris Aquis lies at the back of the watch. Unlike other dive watches, this accessory has a transparent case back that offers a clear view of its movement. Made from mineral glass, the case of the watch provides water-resistance of 300m and can handle anything thrown at it.
On top of the watch, a domed crystal (surrounded with ceramic bezels) covers its dial. Since this part comes with sapphire glass, it can still look new, particularly after a hard fall. What's more, is that Oris has included an anti-reflective coating that provides an elegant finish.
Oris Aquis Date 39.5mm Watch: Dial
The dial on the Oris Aquis comes in three options – blue, black polished, and black matte. Furthermore, a domed sapphire crystal protects it from external conditions.
Like the original Oris Aquis Date watches, this model also has a green dial variant. But instead of a matte design, the 39.5mm model uses an interesting brush pattern that reflects nicely.
The watch also has well-sized hands and hour indexes. With a glance, you can catch the lollipop feature of the second's hand.
The elegant dial is coated with Super-LumiNova, which makes it one of the best glow in the dive watches on the market. Also, since it is easy to read in poor light and deep-sea dives, this is a great timepiece for those looking for the best luminous watches.
Oris Aquis Date 39.5mm Watch: Bracelet/Strap
The new model does not follow the bulky look of the old Aquis Date. It doesn't even go with the traditional straight lug step. Instead, it adopts more straightforward crown guards and lugs with angular steps. As for the Oris Aquis 39.5 lug to lug height, it should measure about 50mm.
It has a tapered steel bracelet with slim features. With this design, you can wear the watch without feeling any stress on your arm. If you want to swap the original bracelet of this watch, its features might not allow you to achieve this task. Luckily, the bracelet has an elegant but rugged build, so you might not bother changing it.
The bracelet ends in a robust clasp that prevents accidental slips. For use with a diving suit, Oris adds a diver's extension to the watch. Besides, this part of the watch comes with easy to use features.
Some models of the timepiece come in rubber or leather straps. You can even get an Oris Aquis black strap timepiece. However, the Oris Aquis 39.5 rubber strap model might not offer the same level of comfort as the steel variant as it easily bunches under the wrist.
Oris Aquis 39.5mm Watch: Movement
The Oris uses a 733 automatic calibre to run this timepiece. Recognized as a copy of the Sellita SW 200-1, you will also find this in the older Aquis Date model. Both watches have movements that use red rotors, but the new model uses a tapered stainless ring that sports the watch's details.
The movement provides 38 hours of reversed power with 28, 800 vibrations per hour. At the six o'clock marker, it supports a bold date window.
As the watch has a transparent case back, you can view the active movement. This feature makes the looks attractive on a standalone.
Oris Aquis 39.5mm Watch: Water Proof Features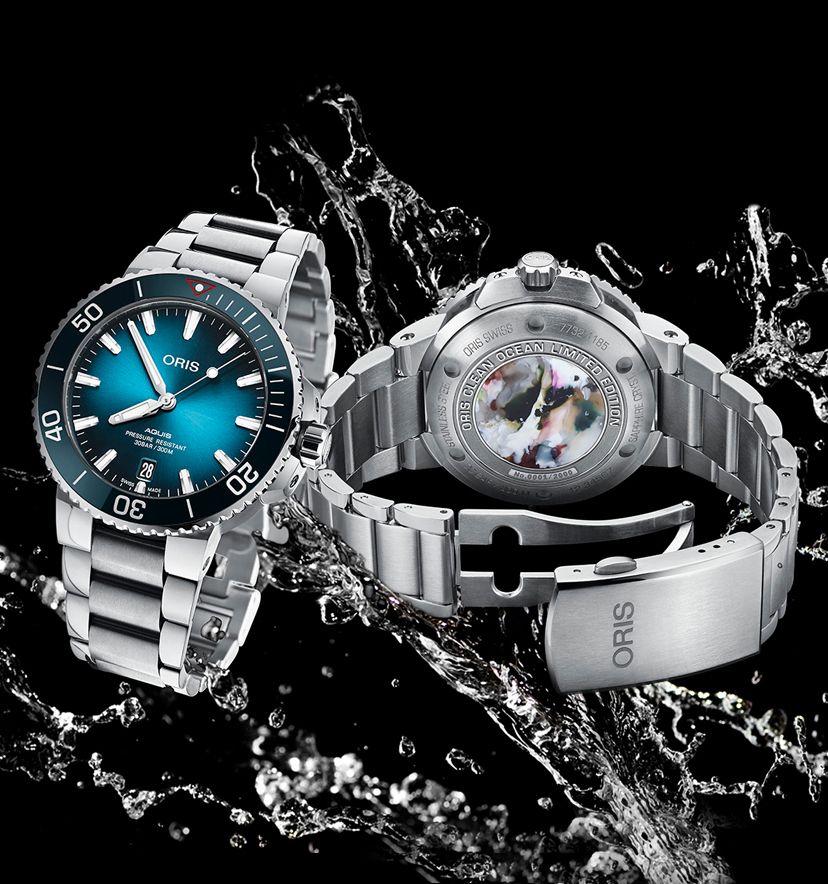 Dive watches just like the one in this Oris Aquis 39.5 Review have features that will ensure prolonged use, particularly for marine activities. For one, it has a water resistance of 300m, which makes it suitable for even scuba diving. Furthermore, the case offers an easy to use but sturdy bezel for keeping track of the time underwater.
During a dive, it's difficult to read a regular watch. To solve this problem, Oris added luminous hands and markers to its dial, thereby providing legibility at all times. So if you want to use the watch in dark environments, these features will help.
The materials used on the watch can withstand exposure to all kinds of moisture, including saltwater. Even after long periods of use, the timepiece on this Oris Aquis review will not show signs of corrosion since it is rust-resistant.
Oris Aquis 39.5mm Watch: Price
At the time of this review, If you find an Oris Aquis 39.5mm for sale, it should cost at least $1,500 (for the strapped option), while the model with a steel bracelet goes for between $1000- $2,500. However, the final price depends on the store or the sellers.
Even if it looks expensive, the watch comes as one of the most affordable luxury brands on the market. Admittedly, this timepiece speaks luxury as it uses a mechanical movement, legible dial, and has other features that can rival more expensive dive watches. It also comes as one of the few diving watches that have a 300m water resistance rating.
Since its inception, Oris has planned to create luxury but affordable watches. Looking at its motto "Real watches for Real People," you will discover that the brand focuses its marketing towards the regular consumer.
With the level of craftsmanship offered, an Oris watch deserves a higher price tag. However, that might make them less popular with people looking for flagship watches at budget prices.
What's more, is that the brand aims to get less profit from its products in exchange for more customers. So how will Oris increase its revenue? Well, it looks like the company prefers to sell its watches to more people and grow its popularity with budget buyers.
Does Oris Aquis 39.5mm Watch a Worth the Investment?
Looking at its elegant build and minimalistic features discussed on this Oris Aquis 39.5 review, the latest 39.5 mm watch will interest divers and watch snobs. It will also meet the needs of regular consumers
The Aquis Date has a well-crafted case that makes you stand out of the crowd. Furthermore, it has a glossy finish that extends to its ceramic bezel. On the right side of the case lies a crown protector that enhances the versatility of the watch.
Finally, it also sports a bracelet that looks robust while it uses a dependable clasp to stay on your arm.
This timepiece runs on an in-house movement – the Oris 733. The Oris Aquis 39.5mm rubber strap watch or the other models can serve as a casual or formal accessory. Besides, it ensures accurate timekeeping on land or sea.
So is the watch worth adding to your collection? I would say yes as its elegant dial, and other features can adapt to any occasion or outfit. Fortunately, you can have these specs mentioned on this Oris Aquis 39.5 review at a pocket-friendly price. In summary, Oris allows you to get excellent watches for less than their original value.