(Last Updated On: April 26, 2021)
When it comes to Jack Mason watch reviews, one of the top models to look out for is the Aviator Chronograph series. These timepieces feature an elegant dial with Superluminova coated hands for easy reading in any low-light condition. Also, the strap is quite soft which makes it comfortable on the wrist. Overall, this watch looks beautiful to complement your outfit for any occasion.
If you want a good watch, you might consider trying any of the famous brands like Rolex and Omega. But do you know that lesser-known names also offer great products?
Yes, smaller watchmakers sell impressive watches, and Jack Mason stands as one of such brands. Apart from selling elegant pieces for the budget consumer, the brand has a wide selection of watches for every activity. Besides, their watches even have several interesting features and warranties.
Do you want to know more about this timepiece from this American watchmaker? Then read through as we bring you a genuine Jack Mason watch reviews and the best models of the brand.
Jack Mason Watches – History of the Brand
This is a Texas-born company launched by a pair a friend with desired goals to produce high-quality budget timepieces. With a combined experience of 25 years in retail and marketing, these individuals decided to establish their brand.
Unlike the more prominent brands, Jack Mason has an exciting vision to sell well-crafted watches at affordable prices. Surely the achieve this because their timepieces blend vintage and modern styles, thereby making them versatile.
The founders of the company have always loved to connect with classic American style. Moreover, the idea of launching the brand came in a vintage airplane that became an essential part of their sales campaign.
After the birth of Jack Mason, it has recorded positive growth as its products have attracted the attention of consumers. As expected, they have also succeeded in offering top-notch pieces to the budget-conscious buyers at an affordable rate.
Watches from the Brand
Even if it's a young company, Jack Mason has an inspiring collection of top-grade timepieces. This range includes impressive analogs and chronographs. Besides, if you want a great analog, I recommend that you check out the model offered by this watchmaker.
But if you prefer a chronograph watch, Jack Mason has items that can compete with top brands like Citizen and Seiko. Luckily, these items cost less than other similar, well-crafted products.
For lovers of versatile pieces, the Nautical and Aviator timepieces from the brand will meet their needs. With this in mind, they will fit any outfit or occasion.
Now let's start the next part of the Jack Mason watch reviews by comparing two watches- the Aviator and Nautical pieces.
Jack Mason Watch Reviews – Aviator vs Nautical 
If you ask or check out any Jack Mason watch review Reddit page, you will find out that both pieces have similar features. For one, they provide accurate timekeeping via a Japanese quartz movement. They even use batteries that last for extended periods while featuring conventional chronographs.
Both watches have well-crafted leather straps. Made from Italian leather, this part of the watch feels comfortable and offers a sturdy build. However, the Aviator strap uses a darker strap of distressed leather that can last long.
As for the Nautical, it boasts of an elegant and snug tan variant. It even blends well with its white watch face.
Best Jack Mason Watches
1. The Jack Mason Nautical Chronograph
Looking at the Aviator watch, you will notice that the watch uses a simple design. But on this Jack Mason nautical watch review, I will show you several reasons to love the Nautical watch that comes with either a black or white dial.
Exquisite Dial
Two elegant hands for measuring hours and minutes grace the dial on this watch. Not only has that, but it also offers a second hand on one of its three sub-dials. It features a small window at the 6 o'clock position where you can check the date of the month.
For a balanced look, the watch offers a single Arabic numeral marker at the 12 o clock position. Other parts of the watch face swabs numerals for circles and batons.
You can use the watch in the dark as it uses Superluminova coating on its markers and hands. Since its popular paint, you can expect a high level of legibility.
Dependable Bezel
The watch secures the crystal to the case via a unidirectional bezel. Apart from locking the glass, the bezel blends with the general design of this piece. It even matches the unique crown and pushers that lies above it.
Elegant Case and Case Back
Do you want a watch that does not look bulky but fits any wrist size? Try the Nautical model as it offers a 42mm case. Unlike most watchmakers that prefer large cases to place extra details, Jack Mason manages to squeeze several features on this compact option.
Even if the case looks small, it has a healthy amount of weight. It also has the sturdiness to withstand daily use.
More significant cases tend to remove the balanced feel of some models. However, Jack Mason avoids this scenario by working with the above option. Overall, the watch itself fits any wrist with ease.
The company built this case with stainless steel. To give it an elegant look, the crown and bezel are coated with 24 kt rose gold PVD.
The back of the watch stands as one of the reasons to love this brand. First, it has a detailed engraving that includes a captain's wheel and some rigging rope. At the lower end of the case, you will find a bold "Jack Mason" signature.
Comfortable Strap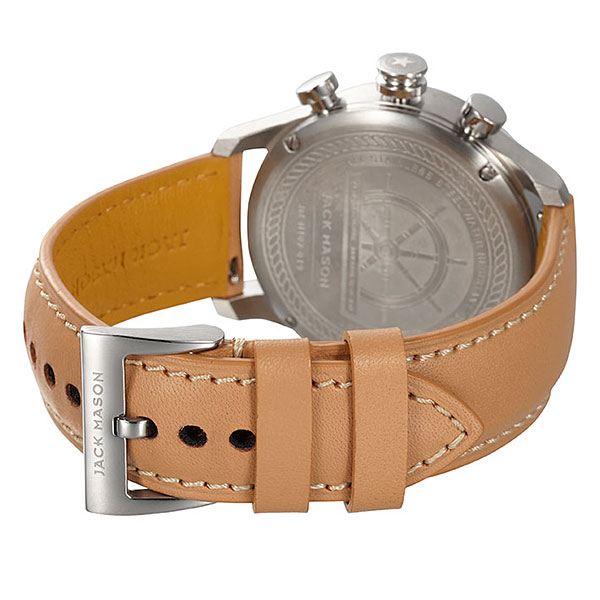 When worn for the first time, the strap might feel stiff. But as time goes on, it tends to soften and become comfortable. Besides that, it has an attractive look that matches the classic ideals of the brand.
Many consumers might prefer watches that feel comfortable, especially when worn for the first time.  With that said, it features a soft leather strap that you will find comfortable to wear throughout the day. During this period, the strap will become gentler on your skin.
2. Jack Mason Watch Review on Aviator Chronograph Series
If you have been looking for Jack Mason Aviator watch 42mm review, here it is at your front. Apart from having such a case size, it has a polished look that blends with any attire. Moreover, the case boasts of an eye-catching dial and an onion-shaped crown.
Elegant Dial
Like most aviator watches, this Jack Mason Watch provides a bold dial. However, it has a basic but detailed feature that makes it stand out from other timepieces.
On the dial, it has white Arabic hour markers that do not glow. But the watch uses luminous blocks and a triangle that allows easy reading in the dark. Since these features Super-Luminova markings and indices, you can easily read this watch in a low lighting environment.
The dial also has luminous hands that use a diamond shape. If you check the chronograph, it has a second with a white end. Next to this lies a counterweight of three colors – red, white, and blue that stands as a tribute to the brand's Texan origins.
The subdials lie at the lower end of the dial and use bold markings. You will also find a date window that complements the dial of this accessory.
Durable Strap
This watch comes with an elegant but durable leather strap. Since it has light hues, it tends to match its dial. Since the strap is quite soft, this makes it also feels snug on your wrist.
Cream stitches lie on both sides of the strap with a tiny groove. With such details, the bracelet makes the watch catch the attention of any onlooker. If you prefer another strap, use the quick release pins to remove the current one.
Accurate Movement
A Japanese quartz movement powers the options on this timepiece. Furthermore, it ensures accurate timekeeping while providing suitable battery life. It even allows you to adjust the chronometer with ease.
If you want a detailed jack mason aviator watch brand review base on functionality, then I will tell you that this item uses a Miyota OS10 Movement. The exciting part is that it supports a five-year battery life and performs well. For this reason, it is recognized by many watch enthusiasts.
3. The Jack Mason Watch Review – Yacht Timer

 
The Yacht Timer, popularly known as Regatta comes as one of the interesting timepieces of Jack Mason chronograph watch reviews. Here, the company offers features that will fit various marine activities. Such options include ideal water resistance and accurate measurements.
Now, let's show you what the watch as to offer.
Well Crafted Bezel and Case
The case has a unique design that will excite any potential buyer. Measuring at 42mm, it has a movable compass bezel that has a flower-like shape. Asides its unique form, it comes in bright blue with white markers on it.
At the left edge lies a screw-down crown and dual-function buttons for adjusting the watch. On each button, the company inscribed its logo.
Elegant Dial & Movement
A sheet of sapphire crystal protects the dial on this timepiece. Even if it can stand against scratches, it allows you to read the watch with ease.
Bold luminous markers dot the face of the Regatta Timer. When coupled with its massive Superluminova coated hands, the watch becomes legible in the dark or intense sunlight. If you also look at the silver dial, you will admire its use of several other colors such as blue, red, and white.
If you need a timer for any race, the dial offers an inbuilt timer. When active, it chimes as it counts down to the final second. Other options featured on the silver dial include dual chronograph faces that have countdown functionality. As for keeping dates, a bottom-placed window will meet your needs.
Since we aren't giving a jack mason automatic watch review, you should know that most of the items here (including the Regatta) use a quartz movement. Here, it uses the Cal.8270B model that comes from ISA. The variant might look unfamiliar, but it's popular with many watch companies
Durable and Functional Strap
Out of the box, the Reggata or Yacht Timer watch comes with a blue rubber strap that can resist moisture. If you want a steel bracelet, you can swap the original for a 22mm steel band from the brand.
The steel band is lightweight, thus adding no pressure on your wrist. Also, you won't bother about having the watch slip from your arm since it features a secured clasp.
Jack Mason Watch Reviews? Are they Worth the Investment
Even if Jack Mason stands as a young company, it offers a fantastic collection of timepieces that can rival similar products from older brands.
Looking at this jack mason watch review, you will discover several reasons to add this item to your shopping list. Fortunately, for a few hundred dollars, you can get a Jack Mason watch that boasts of a premium build and excellent movement. You will also enjoy a hardened crystal, snug bracelets, and eye-catching dials.
The brand offers a ten-year warranty, which makes it more attractive to everyone. Overall, a combination of all these Jack Mason watch reviews should make you consider investing in their watches.